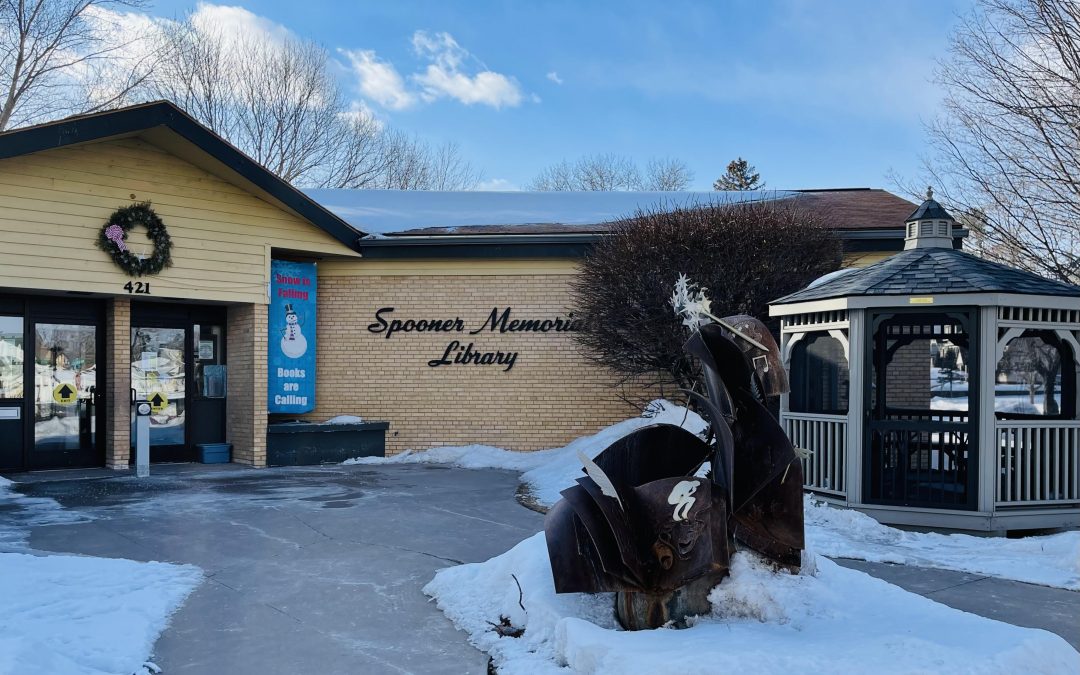 After some hopeful months, our dreams of moving the library to the old clinic building have come to an end. At the December City Finance Meeting, it was determined that the cost of operation would be far too high, making this location not feasible. The City made it...
read more
FAQ: Frequently Asked Questions
Why doesn't the current building work?
Limited accessible parking, parking situation dangerous in the Winter
Limited accessible shelving, books are too high and too low for patrons to access and spacing between shelving units fulfill the minimum ADA requirements
Lack of green space
No designated program space
Crack in the wall (children's side)
Limited community engagement space
No meeting space for more than 2 people
No space to hold meetings, community forums, or go into closed sessions (anything done in closed session can be heard outside of the room)
No designated quiet/study space
No designated teen space
No storage space and what storage space is available (above Director's office) is difficult and dangerous to access
Circulation area not accessible for patrons in wheelchairs or to children
Not enough staff work space
Not enough space for Library of Things collection
Compassion Kitchen food resource storage is not easily accessible for staff when restocking
No space to store and create outreach materials
No exit for staff in office should an active shooter come into the library
View of library obstructed by high shelving causing a risk of theft
No separation of children's and teen book collections
No movable shelving
What would the library be able to do in a new building that the current space cannot accommodate now?
Add to our collection, including our Library of Things
Reach more individuals in need through the Compassion Kitchen and outreach programs
Provide community meeting space that is accessible until 8:00 p.m. Monday-Thursday
Host larger events without obstructing access to the library's collection
Provide more study space and quiet space for the community to work from the library
Provide more space for community organizations to share their resources
Provide a designated makerspace, providing opportunities to the community that they wouldn't have otherwise
Provide more outdoor programs where patrons can come into the library afterwards
Storage extra chairs and program materials
Move shelving to accommodate various programs
Have a designated, safe teen space
Provide better access to materials, parking, and seating
Provide more comfortable and accessible seating options
Partner with organizations in the same building, eliminating the barrier of transportation
Allow staff to have designated workspace allowing for a more efficient workflow
Why is greenspace important?
Outdoor learning opportunities are important for all ages
Greenspace allows for an interchangeable StoryWalk onsite
Greenspace allows for outdoor programming without limiting access to the library
Greenspace provides the community a peaceful place to gather and connect
Greenspace provides the community with a safer place to gather
Greenspace allows the library to expand its programming options
Why do we need a bigger library when we have the internet?
Three-quarters of the library's checkouts are for print/physical materials
More and more community members are working remotely
Many properties in this area do not have access to fast or affordable internet
The library is a place that helps community members maneuver and adapt through constant tech challenges and changes
The library provides a place for community members to connect safely online
Community is people, people need a communal space to connect
The library is the only place in the community where people of all ages are engaged
Print materials are not dead, nor will they ever be
The library is the community's only place that provides affordable, accessible printing, scanning, faxing, and tech support
What would it cost? What funding does the library have now compared to how much it would need?
The library is working with SEH (architect) to determine an estimated cost to remodel the old clinic
The library needs City of Spooner's support to offer GAP financing to secure the property
The library needs City of Spooner's support to provide an additional $40,000 annually to support additional cost of operation
The library currently has $50,000 to provide cost of operation support during the campaign
The library has very supportive patrons who have already said they would support the campaign
How can I support the project?
Share library stories and interest in the project
Provide media coverage of support for the project
Join the campaign committee
Give money, stocks, charitable donations to the library (421 High Street, Spooner, WI 54801)
Attend City Council meetings to express support for this project
Is the library collecting community suggestions for the space?
The library will host community sessions once the project is approved and plans are written
The library will provide many outlets for community members to provide suggestions for the space
Community members are welcome now to express what isn't working with the current library (director@spoonerlibrary.org)
Donations
Give money, stocks, charitable donations to the library.
Please drop off or mail a check to to the library below with a note that you would like to donate to the building project.
Spooner Memorial Library
421 High Street
Spooner, WI 54801
Support the Project
Follow the library on social media to stay up to date
Subscribe to the Library Newsletter
Provide media coverage of support for the project by sharing social media posts and newsletters
Share your library stories and interest in the project with librarians
Join the campaign committee
Give money, stocks, charitable donations to the library
Attend City Council meetings to express support for this project