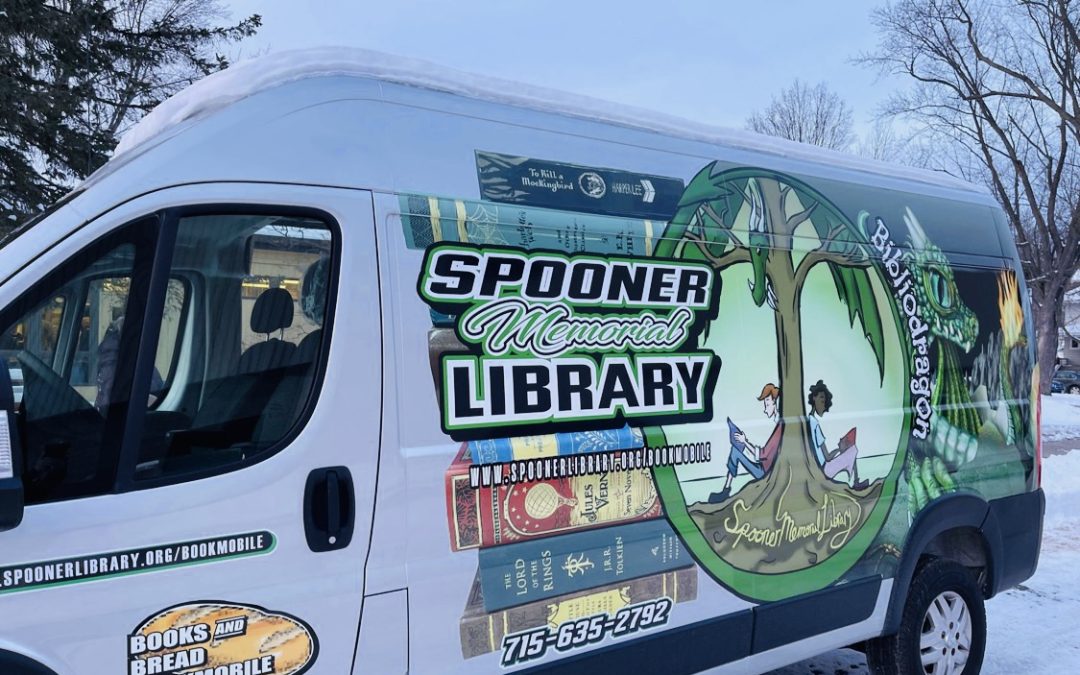 The last bookmobile in Washburn County was in late 1999 when Northern Waters Library Service Traveling Library ended. The Multi-County Library Bookmobile served 63...
read more
Instant Weather Updates
Find the most up to date bookmobile schedule changes regarding weather through Facebook.
Sign-up for Text Updates
You can reach out to the Bibliodragon Team directly about bookmobile related things, including route changes or cancellations.
Text @spdragon to 81010 
2023 Bibliodragon Schedule
1st Tuesdays : Purple Route
Crystal Town Hall 10:50 am – 11:50 am
Trego Town Hall 12:45 pm – 1:45 pm
Evergreen Town Hall 2:10 pm – 3:10 pm
1st Thursdays : Orange Route
Stone Lake Town Hall 11 am – 12 pm
Bass Lake Town Hall 12:55 pm – 1:55 pm
Springbrook Town Hall 2:15 pm – 3:15 pm
2nd Tuesdays: Green Route
Spooner Town Hall 11:10 am – 12:10 pm
Brooklyn Town Hall 1 pm – 2 pm
Gull Lake Town Hall 2:20 pm – 3:20 pm
2nd Thursdays : Blue Route
Madge Town Hall 10:50 am – 11:50 am
Long Lake Town Hall 12:45 pm – 1:45 pm
Birchwood Town Hall 2:05 pm – 3:05 pm
4th Tuesdays: Yellow Route
The bookmobile stops at private residences, including Maple Ridge and group homes.
Contact the library if you would like the Bibliodragon to visit your organization or group home. Email outreach@spoonerlibrary.org for more information.
4th Wednesdays : Books & Bread… Free Food!
10:30 am – 11:30 am Beaver Brook – Church of Nazarene N4585 HWY 253, Spooner
12 pm – 1 pm Trego – Christ Lutheran Church W5523 HWY F, Trego
Anyone in need of extra food and library resources is welcome to come and pick up FREE, fresh, food from Feed My People Food Bank and check out books from the Spooner & Shell Lake public mobile libraries.
Find us in Beaver Brook and Brooklyn Townships.
4th Thursdays: Red Route
Chicog Town Hall 11:00 am – 1:00 pm
Private group home stops in the afternoon.